Our Veterinarians and Staff for Cedar Falls, Waterloo & Waverly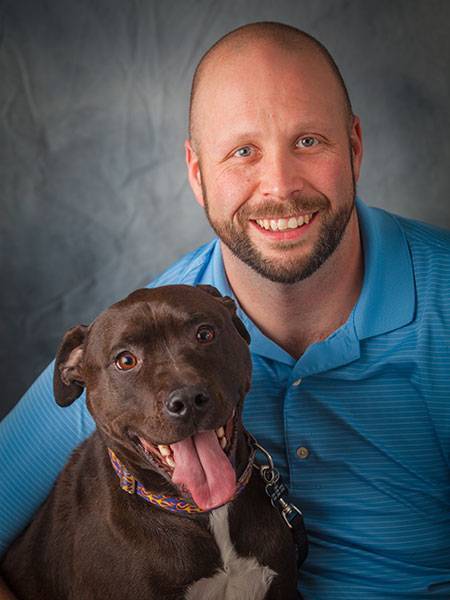 Clif Paulsen, DVM
I joined Cedar Valley Veterinary center in 2003, after practicing veterinary medicine in Kentucky. I received my BS and Doctorate Of Veterinary Medicine from Iowa State University in 2002.
I enjoy many different facets of veterinary medicine but especially ophthalmology, internal medicine, and reproduction.
I am a Cedar Falls native, where I was privileged to be involved in many aspects of livestock agriculture and 4H. At home this is still a huge part of my life. My wife, Debbie, and two children Sutton and Fisher, all participate in raising sheep, American Saddlebred horses, and pigs.
Kevin Christman, DVM
I joined Cedar Valley in October of 2012 after practicing for several years at a small animal hospital in Florida. Several sunburns later my family and I left eternal sunshine for the warm, smiling Iowa faces. I graduated from the University of Florida with a BS in zoology and a MS in Business Management. I received my Doctorate of Veterinary Medicine from Iowa State (Go Cyclones!).

I enjoy many aspects of veterinary medicine but have a particular interest in soft tissue surgery, orthopedic surgery and dermatology.
In my spare time I enjoy spending time with my family which includes our furry daughter Angie, an American Staffordshire. I also enjoy fishing, camping, hiking, and playing ice hockey.
Debra Simonsen, DVM
I joined Cedar Valley Veterinary Center in 2014 after spending several years practicing in Minnesota, Iowa and Illinois. I received my BA from Augustana College in Sioux Falls, SD before obtaining my DVM degree from Iowa State College of Veterinary Medicine in 1992.
Our family relocated to Cedar Falls in 2009. For the first years in Cedar Valley, I took the opportunity to do relief work in the area. This allowed me to continue to practice but have flexibility to schedule around my 3 daughters' events and activities. The location and part time status made CVVC a wonderful fit for me and my family.
I enjoy all aspects of canine and feline veterinary medicine, but especially medical cases. I also like to focus on making visits less stressful for our feline and canine patients.
Amber Jacobsen, DVM
I received my BS in biology from the University of Northern Iowa, where I was first introduced to the wonderful staff of CVVC, working part time as a kennel attendant. After earning my DVM degree from Iowa State College of Veterinary Medicine in Spring 2018, I returned to the Cedar Falls area with my husband to begin my career as veterinarian.
I enjoy many aspects of veterinary medicine, but have developed a fondness for exotics, from small mammals to reptiles. I also enjoy utilizing ultrasound as a non-invasive diagnostic tool to help our patients.
In my free time I enjoy being outdoors with my husband Codie, daughter Reagan and English Setter Harper. We enjoy fishing, hunting and archery.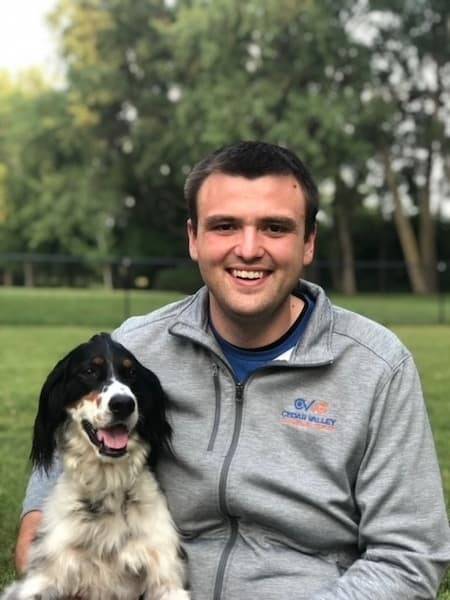 Caleb Vander Wiel, DVM
I am a Cedar Falls native that worked at CVVC when I was in high school and while going to college at UNI. I received my Doctorate of Veterinary Medicine from Iowa State University in 2020. After this I completed an internship working with shelter animals at Iowa State University before coming back to the Cedar Valley.
I enjoy many aspects of veterinary medicine, but particularly enjoy urgent care, internal medicine, and preventative medicine.
I also enjoy spending time with my wife and pets. I love to spend time outdoors including cycling, hiking, and golfing.
Steph
Stephanie joined our practice in April, 2017 after several years in human medicine. She is well-qualified for the job of Practice Manager with her extensive experience in a multi-doctor practice and a BS from the University of Northern Iowa, along with being a life-long dog-lover.
Steph really enjoys the office setting, being able to watch our patients come in as puppies and kittens and watching them grow. She also enjoys the relationships that are built at CVVC, both with clients and staff.
When not working, Steph enjoys spending time with family, walking her dog, and traveling to sunny beaches.
Jodi, CVT, RVT
I have been part of the CVVC family since 2007. I earned my AAS degree in Veterinary Technology in 2004 but have worked in the veterinary field since 1991. My husband Dan and I reside in Traer. I have 2 adult children as well as 4 furry ones. Pepsi and Buzz are rescued domestic shorthair cats . Tink is our miniature schnauzer and Jazzie is a shih tzu. I enjoy spending time with family and really enjoy retail therapy. No matter what, I will always stop to say "hi" to every dog or cat that I meet.
Heidi
Heidi joined the practice in 2013. She has been in both the human and medical fields since 1994. She is currently working on earning certification as a Veterinary Technologist through on-line classes with Dallas College. Heidi is enthusiastic about advancing her knowledge so that she can provide the best possible care for the patients at Cedar Valley Veterinary Center. A couple of fun facts Heidi has learned recently are that horses do not have gall bladders and when you occlude a sheep's nostrils it will urinate.
Heidi is an Aquarius and enjoys long walks on the beach.
Sara, RVT
Sara joined Cedar Valley Veterinary Center in 2015. She is a registered veterinary technician and graduated from the veterinary technology program at Kirkwood Community College in 2016. Sara likes many aspects of veterinary medicine, but especially assisting in surgeries and helping your pet feel as stress free as possible while here. Sara has two dogs of her own, Gilly an American Staffordshire Terrier and Joyner a German Shepherd Dog. Sara lives an active lifestyle with her husband, Adam. They enjoy many activities together such as lifting weights, swimming, kayaking, hiking and biking.
Rhiannon, RVT
I am a graduate from the Kirkwood veterinary technician program. I started at CVVC just before I began the Kirkwood program as kennel staff, and I completed my veterinary technician internship here. I am proud to say I am now a registered veterinary technician! My favorite patients are the tiny or scaley ones, I'm always the first one in line if a pocket pet or reptile comes in the door! I have a bit of a zoo at home. My pet family currently consists of a cat, 3 boas, a bearded dragon, and a fish tank. I also keep a few different types of beetles. Foster dogs round out my pet life outside of work.
I'm a board game geek and spend a lot of my time volunteering.
Carrie
Carrie joined Cedar Valley Veterinary Center in June 2018. She graduated in 2011 from Hawkeye Community College from the Animal Science Program and Veterinary Assisting. She went on to work at a veterinary clinic in which she completed her internship and continued working there until hired at CVVC.
One of her favorite things about working in the veterinary field is assisting in surgery and building relationships with patients and their humans.
She enjoys spending time with her other half and 3 children during her spare time. She has 2 furry children, Lynyrd who is a Chocolate lab and Morrison, aka Morris who is a DSH cat. She loves to do anything outdoors, enjoys listening and dancing to all music and thrift shopping.
Josh
Josh got in to helping animals later on in life. He spent 20 years in the United States Marine Corps and 10 Years with a full time Fire Department. The VA paid for Josh to be rechooled in order to help him transition from a job that was not healthy mentally for him.
Josh attended Hawkeye Community College and graduated in 2019 with an associates in Animal Sciend and Veterinary Assisting. While in school he applied for an internship with CVVC. He fit right in and was hired after the internship was over.
Josh has 1 dog. His name is Turner and he is Josh's service dog that he got through "Retrieving Freedom Inc" They have been together for 4 years. Josh and his wife have fostered 2 dogs in the past for the program.
Josh enjoys all aspects of working with the animals. Especially French Bulldogs.
"Working with animals has really helped me mentally. I am a much happier person."
Amanda W
Amanda started working in the veterinary field in 1998 while living in Texas. She attended Texas A&M University for Animal Science before moving back home to Iowa in 2005. A self-proclaimed crazy cat lady, she has ran her own cattery, Macushla Ragdolls, breeding Ragdoll cats since 2014. She has a total of 13 cats (between 2 houses) and a small dog Missy.
Amanda's many hobbies include sewing, cooking, crafting, gardening (flowers and veggies), painting, etc. Her 10 year old son, Braydon and boyfriend Ken consume most of her spare time. Together they enjoy Cub Scouts, board games, jet skiing, boating, and spending time with family at their place on the Mississippi.
Her favorite aspects of veterinary medicine are nutrition, behavior, surgery, dentals and client education. She enjoys interacting with all of the patients and their owners.
Thea
Thea joined Cedar Valley Veterinary Center in 2009. She graduated with a veterinary assistant degree from Kirkwood Community College in 2009. Thea enjoys veterinary medicine but especially connecting with clients and helping their pets feel welcomed. Thea has 3 dogs Carley, Clyde, and Zoey along with chickens, cats, guinea pigs, rabbits, and a pony. Thea lives an active lifestyle with her husband Matt and two children Riley and Blake. They enjoy spending time with their animals, hiking, camping, gardening, and sports.
Amanda S
Amanda joined CVVC in November 2019. She has a medical assisting degree and prior to joining CVVC spent many years working in the human services field. Amanda enjoys meeting all the new patients, especially " Frenchies "
Amanda lives in Plainfield with her daughters, Emma, Mia, Layla, and son Ryker. They have 2 cats, Juno and Reginald Cuddles Bussington the 1st and a Mini Lop Rabbit named BunBun. In her free time Amanda enjoys rock hunting, flea markets, and being outside, as well as dad jokes.
Alyssa
Alyssa joined Cedar Valley Veterinary Center in March 2020. She received her B.A. In Criminal Justice and Public Adminstration from Buena Vista University in 2011 and spent several years working in human services before switching gears to join the team here at CVVC. She enjoys meeting all of the new patients and watching them grow.
Alyssa currently lives in Cedar Falls with her husband Jacob, daughter Wren, and Black lab Bella. In her free time Alyssa enjoys going to flea markets, exploring the outdoors, and spending time with family.
Clinic Pets
Louise
I joined the CVVC family just before the big move over to this building. In fact, I did most of the supervising for the move! I'm just over 3 now, and I love my job at CVVC. I supervise all the cleaning of the cat condos, as well as making sure all of the food in the building is fresh and tasty. I am also chief morale officer, and I help teach clients how to give their kitties at-home shots. All in all, I keep this place running!
Thor
I'm about 5 years old, so I'm about middle age, I could live to be over 10! My favorite foods are super worms and butter worms (but the lady who takes care of me is mean and says I'll get fat if I eat too many butter worms). I also like crickets and mealworms, and I get red worms as a treat sometimes, YUMMY!
Leopard geckos are pretty great, if I do say so myself.